As you approach turn five at Road America you have to stand hard on the brakes to make a 90º left hand turn. Seems simple enough if you are an experienced race car driver, but things that appear simple aren't always simple.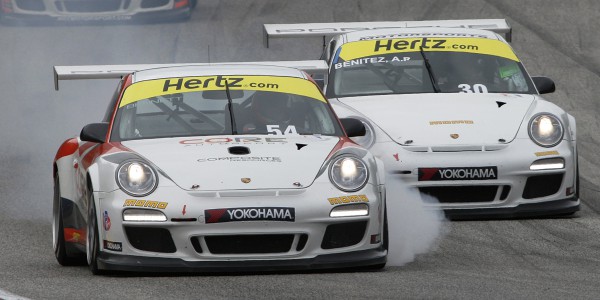 So let's go back just a little bit. By this I mean to turn three where it all starts. Turn three is a sharp right hand turn which reduces your speed quite a bit. Once through it, you hit a strait stretch with a slight up hill climb to turn four. Turn four is not really a turn, but a slight left hand dog leg. From here it is a short downhill strait into turn five. Since you did not have to brake for turn four, you are carrying a lot of speed into turn five.
By now you should have an idea of what could go wrong in this scenario. Now factor in drivers racing for position and you can see it coming. Someone may not be able to slow up enough to make it around the turn. I guess what is most surprising, and a testament to these drivers skill, is how seldom this happens. Many end up just taking a rough ride over the outside rumble strips.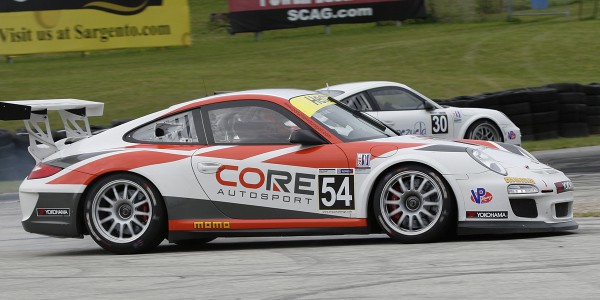 In our photos Core Autosports Porsche GT3 cup car is the victim of our story. Locking up the brakes doesn't help. So it's to the run off road, a quick turn around, kick up a bit of gravel as you cut through the gravel trap, and back into the action.