Having attended many events of varying types over the past several years, the one thing they all have in common is the need of volunteers to make them happen. Volunteers come in different forms, from ticket sellers to concession stand workers etc. In the world of motorsports the word volunteer takes on a whole new dynamic.
Volunteers in the racing world are more of a fraternity than just local individuals or groups giving of their time. Many travel to multiple venues and events. Some are part time racers themselves so have a vested interested in helping out other racers. Many act as corner workers, pit lane coordinators, and course marshals. Those of us who have worked at these events (myself as a photographer) know how long the days can be. The other part of this volunteer crew are the safety and crash rescue teams. While some are part time racers like the others mentioned previously, many are active duty and retired fire and EMS personnel. When the worst happens, (and it sometimes does) these people spring into action. Some are paid under contract, many are not. The safety of the racers, coarse workers, and spectators is in their hands. I have yet to see one who does not take this responsibility very seriously.
To illustrate my point we go to August 9 2015. We are at turn five at Road America. It is race 2 for the Cooper Tires Prototype Lights series. It has already been a contentious race with lots of incidental contact among the young drivers. Because of this we have just restarted after a full course yellow for a car off the track, and sitting in a bad spot. After its removal we go green again. As with most restarts, the cars are once again tightly grouped together as they go through the first few turns. So far so good. However as the cars approached turn five, I could see something was about to go wrong. They were two and three abreast coming into the corner. This is always a recipe for disaster in five.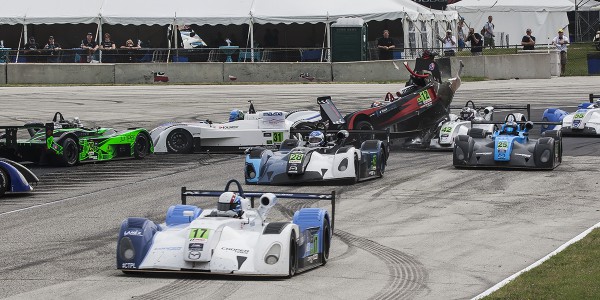 Sure enough before I could get the camera focused it had begun. Maxwell Hanratty's number 29 had already spun after being hit in the rear by someone I did not see. As the carnage ensued, others made whatever effort they could to slow or go around the cars that were rapidly piling up. Things finally came to a stop with the 29 nose to nose with the 31 of Michale Chlumecky, and the 12 of Tony Bullock coming to rest on top of the 42 of Richard Fant. This all happened in front of the crash rescue crew which was stationed at turn five. The race control radio came to life with the flag stand saying they were going to yellow for an accident with track blockage. As crash rescue started their job, the flag stand reported that there was a fire also.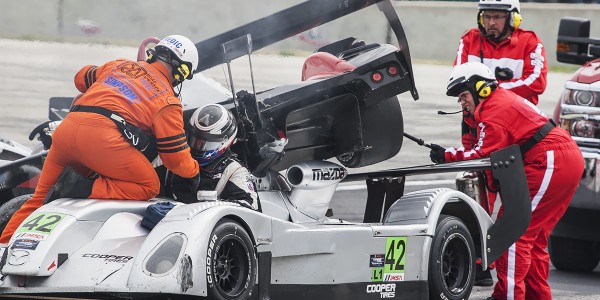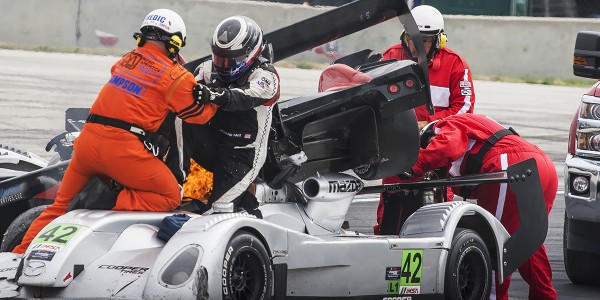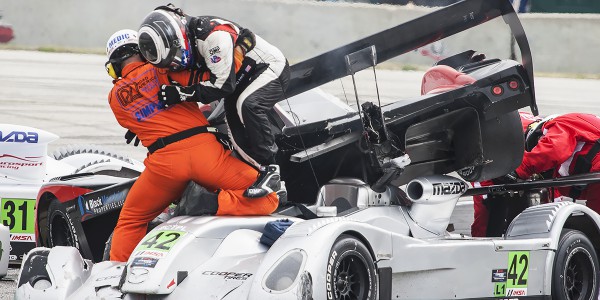 Unaware of the urgent nature of his situation, young Mr. Fant begins to casually remove his seat belt. At this point Steve Stockhausen of crash rescue seeing the drivers lack of urgency, climbed on the car and quite literally lifted the young man from the wreck. While seeing and shooting this first hand it may seem quite amazing, it is in fact a matter of routine for the men and women who do this job. Weather it is a single car spinout, or a multi car wreck with injuries, their response and reaction is always the same. It was summed up best by one of the rescue workers when she said "we do it because we have a passion for it"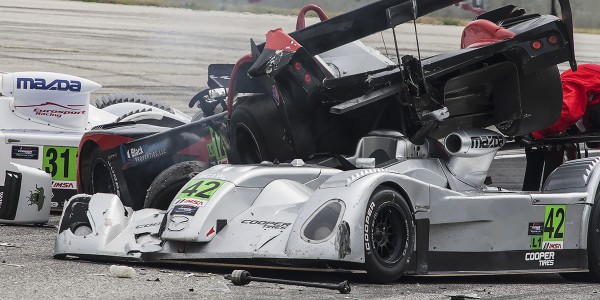 joel