When I was young I first became acquainted with sports car racing through books, and I was immediately fascinated. I had purchased a book titled "Great Moments in Auto Racing" in which each chapter covered a pivotal moment in racing history that forever changed the sport. The first chapter in particular is a story that has stayed with me through the years. It was titled, Fangio at Nurburgring. It is a detailed account of the 1957 German Grand Prix in which Juan Manual Fangio overcame near impossible odds to win.
The short synopsis is, Fangio driving a Maserati had to overcome a deficit to get the lead from the two Ferraris. After doing so he had to pit due to his older, and heavier Maserati's poor tire wear. Upon returning to the track, the Ferrari's had amassed a 45 second lead with only 8 laps to go in the 22 lap race. Fangio had to catch and pass both Ferraris. He did just that, and broke a track record on every lap. He passed the leading Ferrari on the last lap to win. He would go on to win his fifth and final Formula 1 championship.
Juan Manual Fangio in his day did pretty much what the top Formula 1 drivers do today. They drive for the manufacture who is willing to pay the most for their talent. The year before his spectacular win over Ferrari at the Nurburgring, he drove for Ferrari. He also drove for Mercedes and Alfa Romeo.
So what brings me to write this story? Actually a chance encounter. I had covered pretty much everything I had set out to while shooting the Chicago Auto Show. My normal last stop is the supercar display to see what exotic cars were on display. Afterward I started to make my way toward the exit, and upon rounding a corner, I came across a display by Alfa Romeo I did not know was there. I took time to shoot their new 4C Spyder, then I noticed two vintage race cars on a platform with some other vintage racing gear in a case behind them. It took some convincing, but the guy in charge of the display let me onto the platform to shoot some interior shots of the cars. After talking vintage racing with him for about a half hour, I made my way out of the show. It wasn't until two days later while reviewing what I had shot that I realized just what I had, and the history behind it.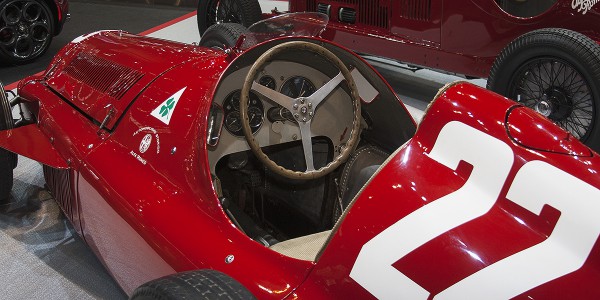 The car on display is an authentic 1951 Alfa Romeo 159 Formula 1 racer, also known as the Alfetta. In this paint, and with this number it looks like the car in which Fangio won the 1951 Spanish Grand Prix. I do not know if this is the actual car he drove, or just a survivor of the time period. If I had known the historical significance of this car at the time, I would certainly had gotten more information
Every Formula 1 fan out there has their opinion on who was the greatest driver of all time. With names like Stewert, Lauda, Prost, Senna, and Schumacher the argument could go on forever. However for me when I factor in the time period in which they competed, the equipment that they had to drive, and the tracks on which they raced, I can only come to one conclusion. Juan Manual Fangio.